cPanel
cPanel is used by many hosts to allow users to manage their website. It can be used to manage files, databases and other settings.
Note: This guide was created using a website hosted by Just Host. Other hosts may look different or have different options.
Logging in to cPanel
Use a web browser to open the server's control panel by entering a link such as http://www.yourwebsite.com/cpanel in the browser's address bar. Enter the username and password for the website and then click the Login button. There is a forgotten password link that can be used to reset the password if it has been forgotten.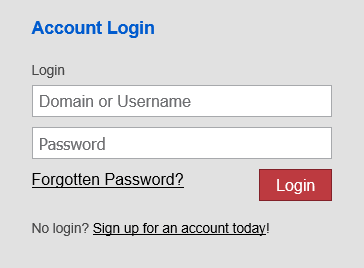 After logging in, a large number of buttons will be displayed in the right column that are categorised into sections. Learn more about the File Manager here. Learn more about the Databases section here.
In the left column are links to frequently used features and useful statistics including the main domain name, username, home directory and the IP address of the last login.
At the top of the page is a toolbar with shortcuts to the commonly used settings such as Email, Website, FTP and Databases.
Expanding and collapsing sections
Click the up arrow on the right side of a section to collapse it and save space for more commonly used sections. Click the down arrow to expand it again. To expand all sections, click the Reveal All Boxes link at the bottom of the right column. To collapse all sections, click the Collapse All Boxes link.

Rearranging sections
To rearrange the order of sections, move the mouse over the header of the section until the cursor changes into a cross with arrows. Click and drag the mouse up or down. Release the mouse button to finish moving the section.
To change the order of sections back to the default order, click the Reset Box Order link at the bottom of the right column.
Searching settings
Use the Search box in the left column to search for a particular setting. For example, searching for "database" will display only the Databases section in the right column.